Don't Ignore Knee Pain, Regardless of Age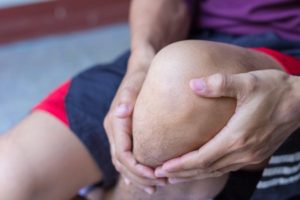 Though knee pain is commonly associated with the aging process, the truth is that knee damage can occur in younger adults as well. It may be tempting to ignore joint pain if it has not yet significantly restricted movement or activity, but early intervention is the most efficient way to prevent serious and debilitating joint trauma in the future. At Bennett Orthopedics and Sportsmedicine, Dr. William F. Bennett specializes in innovative, preventive, and minimally invasive joint treatments in order to help his patients of all ages maintain lasting joint health.
Numerous Origins of Knee Pain
Knee pain is a general term that could indicate one of many different conditions. The most common cause of joint pain is osteoarthritis, which occurs when gradual wear and tear erodes smooth cartilage, in turn minimizing the soft, protective cushion meant to prevent bone-on-bone rubbing. Other leading causes of knee pain include injuries and growth defects. Regardless of the trigger of knee pain, early intervention makes it possible to alleviate pain, minimize further damage, and improve the overall prognosis for patients.
Platelet-Rich Plasma (PRP): A Groundbreaking Solution to Knee Pain
Traditional knee pain treatments are geared toward temporarily minimizing symptoms rather than healing the root causes of the pain. This is why Bennett Orthopedics and Sportsmedicine focuses on the use of PRP as a regenerative intervention to knee pain.
PRP accelerates and enhances the natural healing processes necessary to overcome knee pain. It contains a concentrated level of platelets that are drawn and spun from a patient's very own blood. Once the concentrated collection of platelets are suspended into a small amount of plasma, they are injected into the knee to target the injury or degeneration causing pain. Over time, the potent growth factors and proteins in PRP stimulate tissue to heal and regenerate in a way the body wouldn't be able to do on its own.
Dr. Bennett has positioned himself at the forefront of regenerative medicine and was one of the earliest adopters of PRP technology in the Sarasota area. He has treated tendon, ligament, cartilage, muscle, and osteoarthritis injuries successfully with PRP. Whether you are suffering from knee pain at the age of 27 or 62, a visit to Dr. Bennett at Bennett Orthopedics and Sportsmedicine will help you achieve stronger joint health now and in the future. Call (941) 229-1648 to make your appointment now.