Arthroscopic Capsular Release Frozen Shoulder
Painful? Frozen Shoulder?
Have you been living with chronic shoulder pain? Do you feel like your shoulder doesn't have the range of motion it used to – it may even feel stuck? You may be suffering from frozen shoulder, a condition also known as adhesive capsulitis. It's possible that you have even been in physical therapy for this condition for months. What you may not realize is that there is a minimally invasive arthroscopic approach that can be performed to significantly accelerate your recovery. This procedure is called arthroscopic capsular release.
Dr. William F. Bennett, one of the top orthopedic surgeons in Sarasota, has been performing this procedure for nearly 20 years. In fact, he was one of the early developers of this technique. Dr. Bennett has been specializing in minimally invasive arthroscopic surgery procedures since 1995. His practice serves the areas of Sarasota, Venice, and Bradenton, and he's one of the only surgeons between Tampa and Fort Myers who offers this kind of innovative surgery to relieve frozen shoulder and accelerate recovery times.
Dr. Bennett not only performs arthroscopic capsular release but is also an active contributor to peer-reviewed research journals, in which he has published articles and letters to the editor. In a recent contribution to the Journal of Arthroscopic and related Research,, Dr. Bennett discussed the development of arthroscopic capsular release from a novel treatment to the current standard of care for treating frozen shoulder.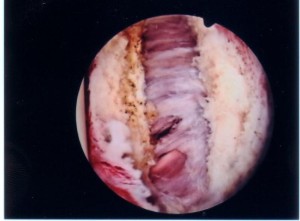 The process, which was considered risky when it was first presented in the mid-1990s, is now widely recommended in the arthroscopic community. As early as 2000, Dr. Bennett presented research supporting the technique as the best means of reducing recovery times for patients with frozen shoulder.
"No patient from my initial series has gone on to receive a total shoulder replacement. The study had reported on the results at 18 months follow-up and it was published in 2000," writes Dr. Bennett. "The technique can be extrapolated to shoulders with early arthritis with expectation of improved range of motion similar to non-arthritic shoulders if and only if the humeral head is still circular and not elliptical or mushroom shaped."
Dr. Bennett can typically return a patient's shoulder to a fully functional range of motion in the operating room with arthroscopic capsular release, a minimally invasive outpatient surgery. The procedure involves the application of small selective incisions in the scar that is preventing the shoulder from moving. Dr. Bennett does this at precise locations to minimize the procedure's invasiveness and reduce recovery times. While some patients lose some of the intraoperative gains for about four to six weeks following surgery, by the third month they return to full range of motion.
Dr. Bennett's primary concern is providing the highest standard of care to his patients and ensuring their safety and satisfaction. If you or someone you know is suffering from frozen shoulder, contact Dr. Bennett's office today to find out how he can help.