Knee Cartilage Damage? Stem Cells Help!
941-953-5509
One of the many areas of innovative therapy Dr. Bennett specializes in is cartilage regeneration using the patient's own stem cells. Stem cells undifferentiated cells that have the unique ability to develop into different kinds of tissue in the body. Dr. Bennett co-authored a peer reviewed study in the journal Pain Management & Rehabilitation,
https://www.sciencedirect.com/science/article/pii/S1934148215000477
that discussed the various therapies that can be used to help orthopedic surgery procedures be more successful – and in some cases, even replace surgery altogether. The use of stem cells to regenerate cartilage was among the therapies discussed.
The paper focused on four studies of the clinical application of stem cells to regenerate cartilage. The first study found that the use of mesenchymal stem cells (MSCs) were equally as effective as implanting healthy cartilage tissue in affected areas, and the effectiveness persisted for at least two years following treatment. Another study discussed in the PM&R paper examined the impacts of using MSCs during open surgery and arthroscopic therapy. That study found that patients who underwent arthroscopic surgery had better outcomes than those who had open surgery.
There are two types of cartilage in the knee; articular cartilage which is the gliding surface on the end of the bones and two pads called the meniscus in each knee. Meniscus tears are frequently encountered with traumatic injuries in athletes and degenerative tears in the aging population.
Damage to the articular cartilage can be even more problematic than Meniscus tears.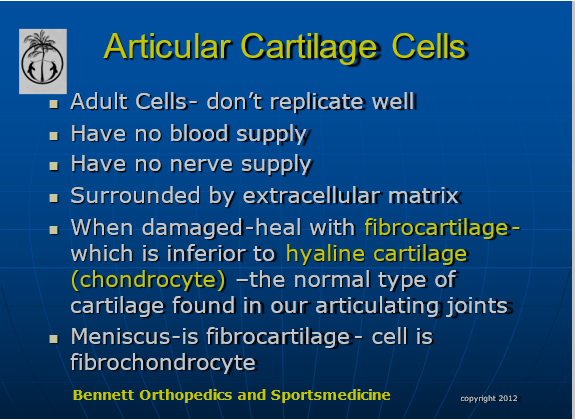 Various approaches to address damaged articular cartilage, which is the precursor of arthritis,
Include: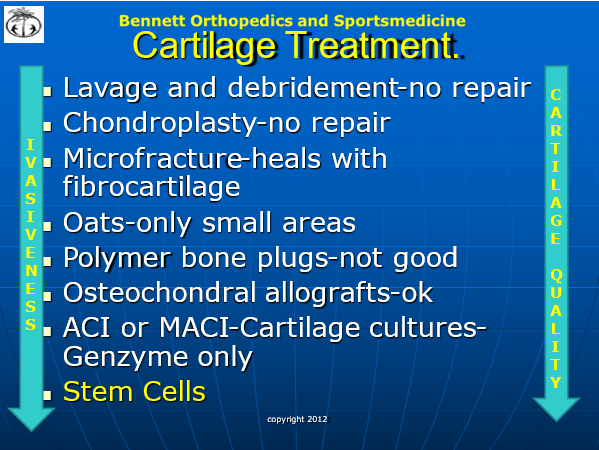 Dr. Bennett specializes in the use of MSCs to regenerate cartilage at his Sarasota clinic, and has found great success with the technique. He also uses minimally invasive arthroscopic surgery to ensure that his patients enjoy faster recovery times and better long-term results. And he has consistently been a leader in his field in this regard. Dr. Bennett was using these techniques before the wider medical community understood their true usefulness (over 16 years for PRP/stem cell procedures) – and the clinical research has shown that he made the right choice. Clinical studies have consistently confirmed that the use of MSC therapy and arthroscopic surgery will result in better patient outcomes.
Dr. Bennett has devoted his entire career to finding new, innovative applications of scientific breakthroughs in orthopedic medicine. He is constantly researching and developing new ways to help his patients and has been on the forefront of using MSCs to treat damaged cartilage and tissue. Because of his work, he is regularly called on to contribute to top research journals, and this gives him the opportunity to continually be learning more about his field of medicine. If you or someone you know has been diagnosed with damaged cartilage or other tissue due to injury or a chronic condition, contact Dr. Bennett's office to learn how his clinical applications of research can help.
Schedule ONLINE Now- click here https://patientportal.advancedmd.com/128285/onlinescheduling/existing
941-953-5509