Partial Custom Knee Replacement in Sarasota, Florida
Dr. William F. Bennett is now offering custom-made knee implants to his partial knee replacement and total knee replacement patients. Until now, implants were sold in standardized sizes, size A through H. This was not always ideal for patients who fall between sizes. With a less than ideal fit, the implant either did not always cover the bone as it should, or would stick out too far, causing pain for the patient. In some cases, the knee cap did not track properly after surgery. Dr. Bennett is on the cutting edge in offering his patients with knee injuries customized implants. When a partial or total knee replacement is needed, here is how it works:
Computerized Tomography (a "CT scan") is used to craft a unique implant, specific to the size, curves, and anomalies of the individual patient's bones. Instead of going into surgery with a variety of implants not designed for any particular patient, Dr. Bennett is able to go into surgery with the right implant for the individual patient. While patients with joint replacements frequently complain of a mechanical or "clanking" feeling, Dr. Bennett finds that his custom knee replacement patients do not have these -complaints. When finishing the procedure, "when I move the knee through the range of motion, it feels like a normal knee. It feels like normal anatomy," says Dr. Bennett.
As an independent surgeon, Dr. Bennett does not try to fit one particular brand of implant to all of his patients. Implant manufacturers use different materials, may or may not create gender-specific implants, or may otherwise vary in options. Now that he has added custom implants to the options for his patients, Dr. Bennett is able to further enhance the individualized experience that sets him apart from other surgeons in large groups.
Partial Custom Knee Replacement – No Cane After Only 12 days!
What is knee Replacement Surgery?
If you have degenerative cartilage injuries, over time the underlying bone becomes affected and you develop arthritis.
After conservative treatment, Dr. Bennett may suggest knee replacement surgery. When Dr. Bennett replaces your knee the bone and cartilage of the affected area are removed. You have 3 compartments in your knee joint; the medial compartment, the lateral compartment and the patellofemoral compartment or knee-cap articulation. Total knee replacement replaces all 3 compartments with metal and plastic.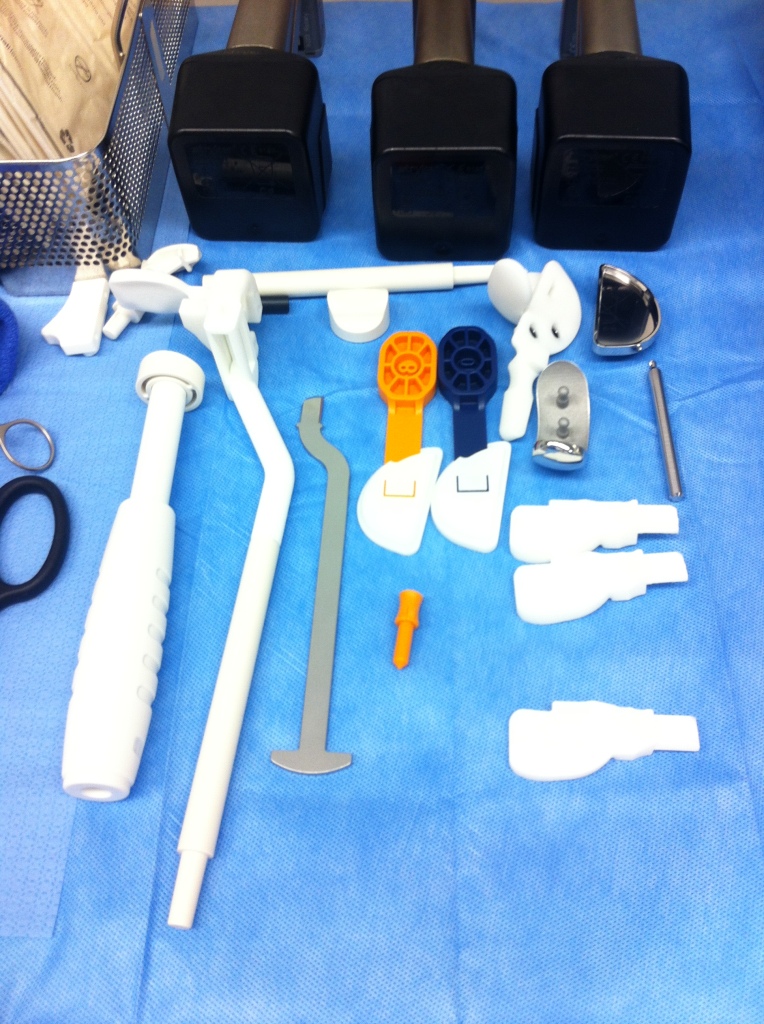 What is Partial Knee Replacement?
If one or two of the compartments of the 3 compartments of your knee are affected with arthritis, a partial knee replacement is possible. This procedure involves replacing the cartilage and bone affected in only 2 of the 3 compartments. Most partial or uni-compartmental knee replacement surgeries are for only one compartment, medial lateralor patellofemoral. Dr. Bennett uses a company that is one of the only ones that has a custom implant for 2 compartments.
What is a custom knee replacement?
A custom knee replacement can be made for your knee. Why custom? most companies on the market provide for implants that come in standard sizes. Standard sizes often a a touch to big or too small. A custom knee fits just right – like a glove – and it also conforms to irregularities in geometry or shape that standard size don't have the capacity to achieve. The custom implant is made from a pre-surgical x-ray or Cat Scan exactly fitting your knee. Because it is custom it can be custom for one, two or all three compartments of your knee.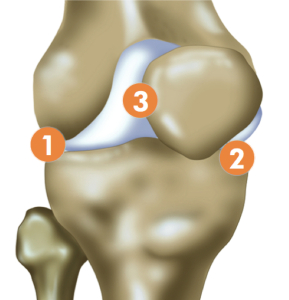 Finally, Dr. Bennett performs his surgery, one, two or three compartments for your knee replacement through minimally invasive techniques, small incisions and allowing you to walk quickly without a cane.
For more information about customized knee implants see the information below.
Conformis custom knee Overview
ConforMIS vs. Off-the-shelf Implants
Total knee arthroplasty has been a very successful procedure with a strong clinical track record.
Dr. Bennett's immediate services area is localized to Sarasota, Bradenton, Venice, North Port, Englewood and Lakewood Ranch, Florida. With easy access to Tampa-St. Petersburg Airports, as well as Ft Myers airport, his reach extends to Naples, Port Charlotte, out-of-state and International patients.
Give Dr. Bennett a call today at (941) 953-5509
Surgery photos of custom knee implant by Dr. Bennett