Lakewood Ranch Knee Surgeon
Lakewood Ranch Knee Surgeon Dr. Bennett Heals Knees with Cutting Edge Techniques
Knee pain is a common complaint and chronic, severe, or even moderate knee pain can be debilitating. These important joints help carry the body and when they aren't working right it can be a huge detriment to mobility. Dr. Bennett of Bennett Orthopedics and Sports Medicine in Lakewood Ranch, Florida is one of the top orthopedic knee surgeons in the state. It's not just athletes who need his help. If you find yourself sidelined by knee pain, it's time to visit with Dr. Bennett and find out how he can bring you relief and get you moving again.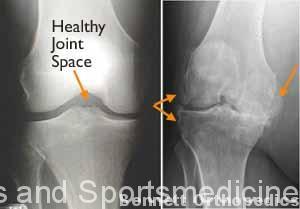 Whether you have arthritis, a sports injury, or you have no idea why your knee hurts all the time, Dr. Bennett has a solution for you. He is a specialist in knee surgeries and one of the top orthopedic surgeons in the area of Lakewood Ranch. His areas of expertise include complete joint replacement, custom knee replacement, and minimally invasive surgeries to treat arthritis and injuries to the joint. Additionally, Dr. Bennett uses platelet rich plasma injections, or PRP, to complement the surgery and to speed up the natural healing process and reduce recovery time.
Although he specializes in a variety of knee surgeries, sometimes a knee can be healed with a treatment that is less invasive. Sometimes a PRP injection is all that is needed to treat knee pain, such as that caused by ligament tears, osteoarthritis, cartilage injuries, and some chronic sports injuries. The platelets come from each patient's own blood and provide a natural and quick way to heal damaged tissue.
Dr. Bennett is one of the few knee surgeons in the Lakewood Ranch area who performs stem cell knee cartilage repair. This innovative technique uses injections of adult bone marrow stem cells. The injected cells go to the areas of cartilage that have been damaged and develop into new cartilage cells, essentially regenerating and repairing this important connective tissue. The treatment is effective, minimally invasive, and gives patients a quick recovery time.
There are many ways to treat knee problems, from surgery to state-of-the-art plasma and stem cell treatments. Dr. Bennett has perfected these techniques and is an expert in the healing of knee injuries and joint damage. Visit Lakewood Ranch and Bennett Orthopedics and Sports Medicine for your consultation and to find out what Dr. Bennett can do for you and your knees today. Call (941) 953-5509.