Shoulder Surgeon Lakewood Ranch, Fl
Lakewood Ranch Shoulder Surgeon Dr. Bennett Excels in Treating and Correcting Shoulder Injuries and Pain
Dr. Bennett of Bennett Orthopedics and Sports Medicine is one of the Lakewood Ranch region's top orthopedic surgeons and he specializes in shoulder surgeries. If you have been experiencing shoulder pain that just won't go away, or you injured your shoulder while being active, Dr. Bennett can help. He can correct a variety of shoulder injuries and relieve pain using the most cutting-edge surgical techniques and minimally invasive methods.
Shoulder pain can come from any number of injuries and types of joint damage. Whether you have arthritis that is causing pain and damage to the shoulder, you injured your shoulder while playing a sport, or you have an unexplained chronic pain in your shoulder, Dr. Bennett has a solution. Your shoulder pain may be caused by a joint tear, rotator cuff tendinitis, a biceps tear, a shoulder dislocation or separation, or a labra tear, among many other causes.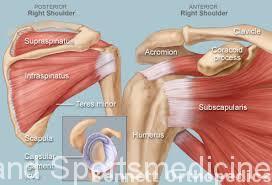 When you come to see Dr. Bennett in Lakewood Ranch for shoulder pain, he will give you a comprehensive consultation to decide what treatment is best suited to your needs. The good news is that almost all shoulder complaints can be corrected with minimally invasive techniques. Dr. Bennett specializes in arthroscopic shoulder surgery, which addresses 95% of all shoulder issues. With this type of surgery, you have just a small incision and a quicker and easier recovery time as compared to traditional surgery.
Dr. Bennett also uses non-invasive techniques to correct problems where possible, and when not to complement surgery and speed healing times. He is one of the few doctors in or around Lakewood Ranch using some of these techniques, like stem cell injections. These are injections of adult bone marrow stem cells, which can help regenerate tissue like cartilage in joints that have been damaged by injury, wear and tear, or arthritis.
Platelet rich plasma is another innovative technique used by Dr. Bennett. In some cases the injection of platelets from the patient's own blood is enough to heal a damaged joint. When it is not, the platelets can still be used to speed the natural healing process after surgery and to reduce a patient's recovery time. Whatever your shoulder complaint is, Dr. Bennett has an innovative solution that will have you healed, pain-free, and active again sooner than you ever imagined possible. Call (941) 953-5509 today to schedule your shoulder consultation in Lakewood Ranch.