Stem Cells Instead of Hip Replacement Surgery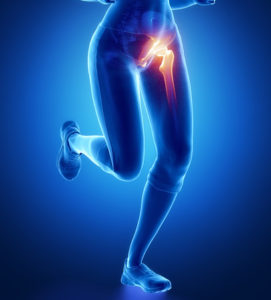 You might have heard about the magic of stem cells, the body's miracle cells that can differentiate to become different types of cells, and then regenerate more of those cells. When people think about stem cells, they often think of controversial embryonic stem cells– those that come from a fetus. Many people don't realize that their own bodies already contain stem cells. These adult stem cells can be found in bone marrow, fat, and blood, and they are also capable of differentiation and regeneration.
Thanks to modern medicine, we are now able to harness the power of our own bodies' stem cells in order to heal injuries or worn joints. This has opened the door for many people to have less invasive procedures in place of  hip replacement or other surgeries.
The Downside to Hip Replacement
A hip replacement may be a good option for some people who have more advanced bone disease or arthritis of the hip joint, and can allow them to regain quality of life. Unfortunately, hip replacements do not last forever. Most hip replacements will last for approximately 20 years before the patient has to have a second hip replacement. This second surgery can often carry more risk than the first due to the degeneration of the joint. Joint replacement patients have been getting younger, making the likelihood that patients will require additional surgeries increase.
This makes hip replacements particularly unappealing for those who are younger. There are general risks associated with hip surgery such as blood clots, fractures, infection, changes in leg length, and loosening of the joint. Thankfully, newer, non-surgical options are available for those seeking relief from their hip pain.
How Do Stem Cells Work on Your Hip?
While stem cells can be extracted from different areas of the body, they are often extracted from bone marrow for bone and cartilage repair, because it is most similar to the area that it is supposed to heal. This is a quick procedure that orthopedic surgeon Dr. William F. Bennett does in his office. The stem cells are then immediately injected into the hip area once they are harvested.
Once injected, the stem cells go to work regenerating the damaged area. The amazing part about stem cell treatment is not just that it alleviates pain, but it actually repairs bone damage. This means that for those who suffer from progressive diseases like arthritis, they are not just putting off surgery with pain management strategies; rather, they are preventing the need for surgery by fixing the root of the problem.
Supported by Research
Many research study findings  support the use of stem cells for the treatment of hip-related problems. One French study found that of 116 patients who had their hips treated with bone marrow stem cells, a significant percentage not only found pain relief and were able to avoid hip replacement, but these benefits lasted through their 5- and 10-year check ups.
In addition to the many positive studies supporting this innovative alternative to hip replacement surgery, more research is currently underway. If you are suffering from hip pain and want to avoid hip replacement surgery, hip stem cell treatment could be the solution for you – especially since the main risk is merely not achieving the pain relief you desire. Dr. Bennett can help you figure out if stem cells are good option for you. Call our practice today at 941-953-5509 to schedule a consultation.